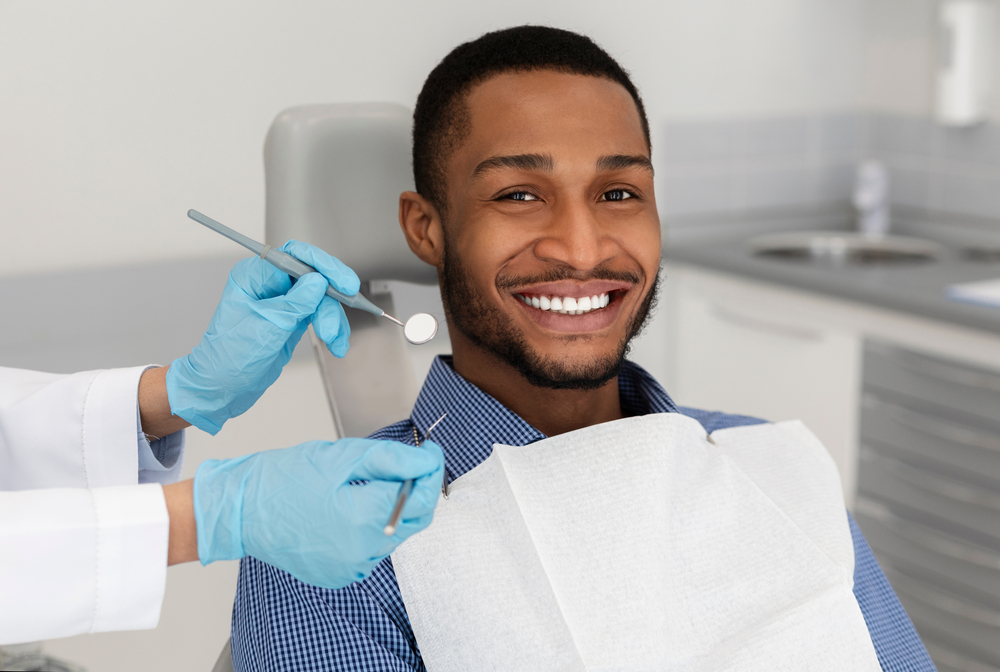 Dental exams are when we really get to know our patients. For new patients, it serves as a first point of contact where you get to meet the dental team here at Victorian Village Dental Care in Columbus, Ohio. For our current patients, dental hygiene exams are a time when we get to catch up, see how you are doing, and accurately assess your oral health.
What To Expect During a Dental Hygiene Exam
A dental hygiene exam provides us with the opportunity to get a better understanding of your oral health. We typically do the following things during the exam:
Review your dental history, medical history, and make any updates to your patient chart
Evaluate and assess the health of your teeth and gums
Check any restorative dental work, such as fillings, bridges, dental crowns and implants you have had done previously
Look for any visible signs of decay
Exam the surface of every tooth to look for cracks, breaks or chips
Screen for gum disease by measuring the depth of periodontal pockets
Check for visible signs of gum disease, such as redness, inflammation or bleeding
Conduct an occlusal exam to assess your bite and jaw alignment by looking to see how your teeth fit together when your upper and lower jaw are brought together
Take X-rays and digital photos
Oral cancer screening
Our team at Victorian Village Dental Care will also take time during your dental hygiene exam to discuss your dental goals. We want to hear about any concerns you may have about your oral health, previous dental work that was performed, and what your long-term smile goals are.
Discussion of Treatment Plans
Once we have completed your exam, we will discuss what, if any, treatment may be needed to help improve your oral health. Our treatment plans are individualized to meet the unique needs of our patients.
Dr. Martinez will thoroughly discuss each treatment option with you. He will provide you with an understanding of why the treatment is necessary, discuss advantages and disadvantages, and address any concerns or questions you may have about treatment.
Does a Dental Hygiene Exam Include Teeth Cleaning?
Dental cleanings are usually performed as part of your regularly scheduled hygiene examination.
Our experienced and caring dental team will do the following things during a professional cleaning:
Use specialized dental tools are used to remove plaque and tartar that has built up around the teeth
Brush and floss your teeth
Polish your teeth
Most of our patients are able to have their teeth cleaned at the same time as their hygiene exam. However, there are some situations, such as when a severe dental problem is present, when we might not be able to safely clean your teeth.
During our discussion of possible treatment options, we will let you know if we are able to proceed with a dental cleaning. If we aren't, we will explain why and get you set up with a treatment plan that addresses the issues.
Build a Trusting Relationship With Our Team
Regularly scheduled dental hygiene exams are for more than cleaning your teeth and monitoring your oral health. They help us build trusting and lasting relationships with our patients.
During your exam, our team has the opportunity to learn more about you both personally and clinically. We can catch up and learn about any life changes that may affect your oral health.
This allows us to provide dental care tailored to specifically address your unique dental problems and concerns.
Learn How To Maintain and Improve Your Oral Health
Our team provides advice and guidance on caring for your teeth and gums at home as part of your dental hygiene exam. We help with everything from teaching proper brushing and flossing techniques to providing recommendations for what type of toothbrush and toothpaste to use.
We also help patients understand how various diseases and medical conditions, such as diabetes and high blood pressure, impact oral health. By providing this type of education, we work together with our patients to help them improve not only their oral health, but their overall health.
The Path to Good Oral Health Starts Here
Victorian Village Dental Care wants to help you achieve optimum oral health. We encourage you to call our office in Columbus, Ohio to request an appointment for a dental hygiene exam. Appointments can be made by phone at (614) 298-1543 or by filling the request an appointment form out on our website.