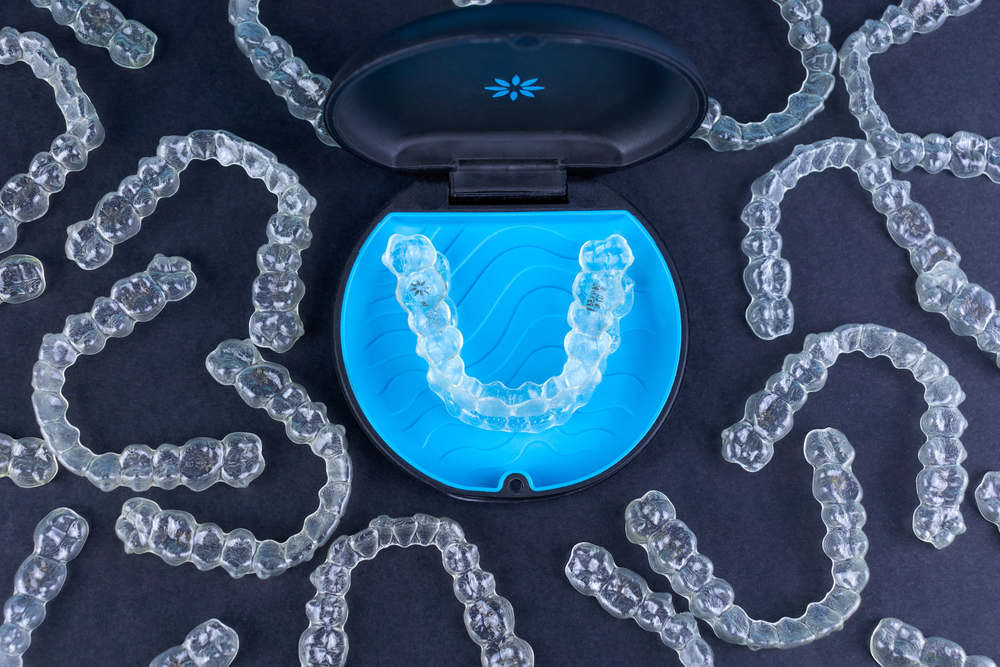 Many people have been reluctant to get orthodontic treatment because they shy away from the idea of metal braces. Invisalign makes it possible to straighten teeth without needing metal wires, brackets and rubber bands.
At Victorian Village Dental Care in Columbus, Ohio, we offer Invisalign as part of our in-house orthodontic services.
What Is Invisalign?
Invisalign is an orthodontic treatment that uses a series of custom-made clear plastic aligner trays to shift and move your teeth into their new position. The clear aligner trays are uniquely designed to apply just the right amount of gentle pressure to the teeth to force them to move into their new position.
Small clips may need to be attached to the back of your teeth to hold the clear aligner trays in place. These clips will prevent the aligner trays from slipping and moving while you are wearing them. When treatment is completed, the clips can be removed.
The clear aligner trays used during Invisalign treatment can easily be removed. All you need to do is gently lift the aligner tray, and it can be removed from your mouth.
Is Invisalign Right for Me?
Our patients see amazing results from Invisalign because of our individualized treatment plans. Before treatment begins, we have a discussion with you about your smile goals. We want to know what you like about your smile, what you don't, and what your version of the "perfect smile" is.
Dr. Martinez takes what he learns about your smile goals and uses it to create a customized treatment plan that will get you the smile you desire.
Benefits of Invisalign
Invisalign is one of the most popular orthodontic treatment options among our patients. Some of the reasons why Invisalign is so popular include:
Invisalign can often produce similar results to other orthodontic treatments in half the time. It can take 18 months to 2 years to see results from traditional orthodontic treatment, while patients can see results in 6 to 12 months with Invisalign.
There are fewer food restrictions with Invisalign because the aligner trays are removable. In fact, it is recommended that you always remove the aligner trays before you eat to avoid damaging the trays.
With Invisalign, you brush and floss your teeth just as you did before starting orthodontic treatment. This is because the trays are removed, and you have full access to your teeth.
Dr. Martinez will need to see you regularly to ensure your treatment is progressing as expected. However, the number of times you need to visit our office is considerably less than the number of visits for traditional orthodontic treatment.
If your teeth aren't moving as expected, Dr. Martinez can quickly adjust your treatment plan, order another aligner tray to move teeth into their proper position, or suggest you wear a specific tray for longer than planned.
See how Invisalign can help you transform your smile. Call our office at 614-298-1543 to request a consultation.